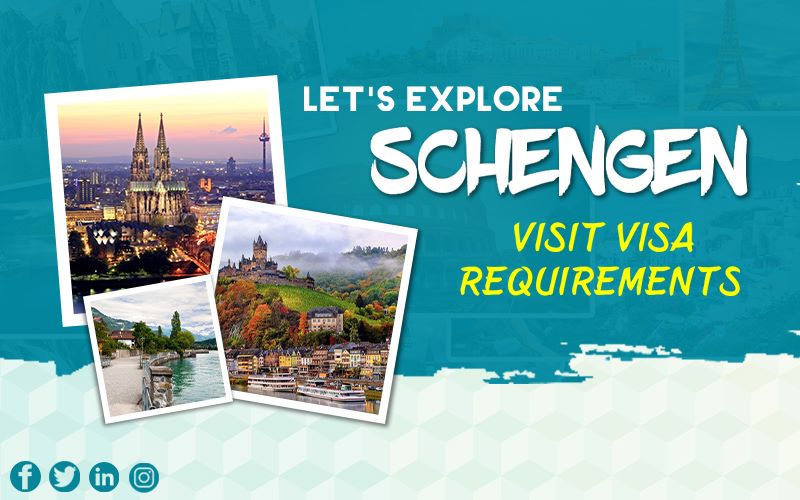 In this article, we will guide you through a comprehensive checklist of the Schengen Visit Visa Requirements. Just like other visas, it has its own specifications and way of procedures. Before applying, read the article completely, so you will know all the requirements of this visit visa.
Babaaz Travels Introduction
Babaaz Travels & Tours International is a leading name in the field of travel companies. There is a need for much time if you apply for the first time. After applying, there is also no guarantee that your visa application got approved or not. So, for your help, we decide to provide you with the best facility in the processing of your visa application. In this way, you will get a positive result of visa approval in a shorter time.
What is Schengen Visa? What are Schengen countries?
Firstly, it is necessary to know what exactly this visa is. It is specific for visitors who want to explore Schengen Countries. This visitor staying visa is shorter with a duration of a maximum of 90 days. But, this time is enough to travel to different countries and spend a good time with family. The Schengen countries are the majority of the EU countries. It includes Italy, France, Switzerland, Germany, etc. Some outside of the EU countries are also involved but not the United Kingdom.
 Visa detail
For tourist purposes, it is an EU travel visa. In 90 days, you can visit 27 Schengen countries. You can make a plan for tourism accordingly to your interest. In this short stay, you will surely please yourself with the beauty of Europe. The application fee for children is less than for adults. Thereby, it is a great choice for family trips during vacations.
Who needs Schengen Visit Visa?
Anyone who wants to visit Europe and is not a citizen of Europe needs this visa. Its major specification is "Tourism". It is not long but with a good duration for tourism. Every year many people apply for it and enjoy their holidays in Europe. It becomes a lovely trip to visit numerous countries under this one approval of the application. Especially, you will spend enjoyable days with kids and families.
Requirements
The requirements for applying are described below that must consider and fulfilled:
Application form
There is a need for two copies of the filled application. You will get the form online. But, take two prints of it. And, your sign at the end part is compulsory.
Photographs
Your photographs must be new. They must contain 70-80% of your face. The close-up includes the head, face, and shoulders. The high-quality photographs should be clear. There should not be any marks or scratches on them.
Passport
The validity of a passport is compulsory. Its validity duration should be for three months during your stay in Schengen Area. Your passport must have two empty pages. In any situation, you will safe with your valid passport. Besides, there is a requirement for photocopies of your passport's first & last page.
Covering letter
It is a sort of personal cover letter in which you will mention the reason and plan for traveling to the EU. It includes the number of countries of traveling, with dates and staying duration.
No objection letter
The no objection letter means you are a responsible citizen of your country and not involved in any wrong activity. Your employer or university gives the letter. It gives surety to the embassy that you will return to your country after completing your tourism.
Flight reservation
The purpose of flight reservations is to know the exact date of your entry and exit. A one-way ticket is not acceptable. Thereby, buying a flight reservation is necessary.
Travel health insurance
You can choose normal insurance for travel health. Its fee should be 30 EUR only. This insurance must valid for the entire tourism's duration.
Accommodation proof
You have to book a room in a hotel before entry into the Schengen area. It is essential because you have to show this proof with your application. Many people prefer to stay with their relatives/friends. In this scenario, you will need to show proof that your relative's house has an extra room for your staying.
Financial status
All tourists must have enough funds that they will never face any financial issues. For its proof, a bank statement of 3 months is required. The criteria for the minimum amount for every country are not the same. You will take guidance from the country's embassy of the Schengen area in your homeland. Besides, attach the document that shows your working status.
 Process of Schengen Tourist Visas
The process of this tourist visa goes through different actions. You have to carefully follow the steps that are following:
Application form
The application is available online. Open the form and fill it out. After filling, take out its print and make sure everything is filled. Then, sign the form at last. Always select the "tourism box" because it confirms you want to apply only for tourism. The other details include all of your personal information.
In addition, there are questions about your plan for the trip. How much do you stay in every country and which countries do you prefer for staying in? Your all answers should be authentic.
Collect your documents
Make one file that contains all of your essential documents. The authorities will definitely demand these documents from every tourist.
Appointment time
It is crucial to take time for making an appointment with the country's embassy. The best option is to select a time of 15 days before starting your traveling. Share your plan with that country's embassy or consulate.
Its next step is to reach the center for that appointment on time. Your appointment will cancel if you arrive late just a few minutes. The overall time is just ten minutes to complete the verification process of documents. The official person will do this task.
Biometric Data
This step is particularly for new travelers. At the embassy's office, there is scanning of fingerprints before applying. It will only do the first time you apply as a tourist. After then, the data will store for five years in the center's record. Your biometric data will use for re-applying for the visa any time again.
Pay the fee
At the time of submission, its fee is 80 EUR. This fee is specific for all adult tourists. However, this fee for a 6-12 years child is 40 EUR. When you will submit the fee, you will get a receipt that you submit the fee. Carefully keep this receipt because it will need when you collect the processed application.
This fee is only submitted one time but it will never refund if the application gets rejected. In addition, pay this fee again for again applying. But, the proper filling of the form has less chance of rejection.
Where Schengen Visa Application submit?
It is an important question where to submit an application. It all depends on your country or countries to visit. Visiting only one country need to submit the application to that country's embassy in your hometown.
On the other hand, if you have a plan of visiting many countries during your tour, go to that country's embassy where you stay longer. Lastly, in case you want equal time to spend in countries, go to that country's embassy where you go first to start your tourist trip.