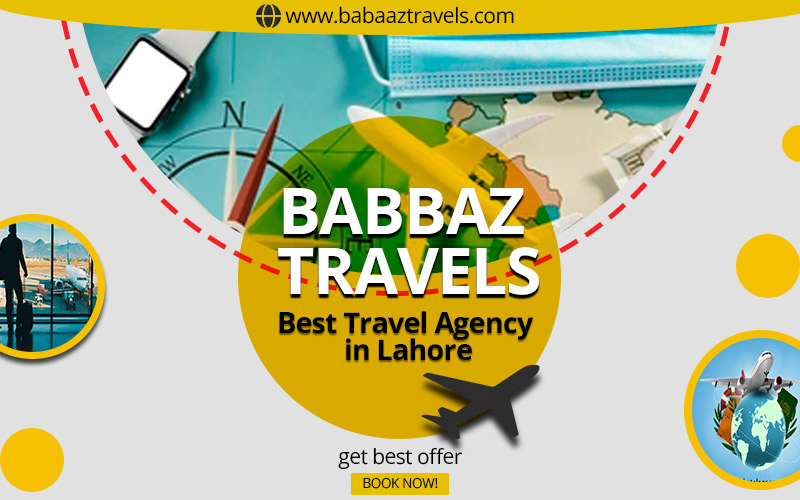 If you are searching for a trustworthy travel agency, this place is ideal for you. Babaaz Travels & Tours international is one of the best travel agencies in Lahore provides great services. For past various years, it gives exceptional packages for traveling. It is suitable for any international or domestic traveling.
Purpose of Travel Agencies
They are a kind of public service that takes various important steps for the traveling of travelers. If you want to visit outside the country, contacting to best traveling company is crucial. It makes all the arrangements for your traveling easier and more comfortable. In this way, you will happily visit anywhere with your best energy. There is no major hurdle in visiting any beautiful destination when you go this way.
Aim of Babaaz Travels & Tours international Agency
The Babaaz Travels & Tours international company deals with all of its clients more professionally. Its main aim is to satisfy the customers with their best communication skills. You can get the best guidance if you want to reach Europe for the first time. Furthermore, you can get the best ideas of how to spend vacations with your loved ones. If you are a resident of Lahore, you should contact this company. The motive behind the formation of this agency is to make all your trips unforgettable. You will enjoy your trips and never forget beautiful memories.
Focus on Arrangements
Whenever you want to spend vacations with your family, decide the travel company wisely. Sometimes, the agencies will not provide the best arrangements. Safe yourself from such scam agencies. Babaaz Travels & Tours international company is with generous and informative agents. Such agents will save you from any difficult situation.
In this way, you will enjoy an excellent experience in this world. Besides, the holiday packages are good for family trips. In these packages, there is complete facilitation of the Visa process, transportation, and many other things. In addition, you can suggest some more unique arrangements according to your family's happiness.
Airline Tickets
It is one of the best companies in Pakistan. According to many customers, they suggest it as a good airline company for all times. It makes sure that you will love to visit through it. The motive is that they have a great reach to most of the amazing airlines. They ensure that you will move without any difficulty.
If you are a student and want to go abroad for further studies, this agency is perfect for you. Many countries provide different scholarships. This agency gives the facility of applying for those scholarships for Lahore's students. No doubt, it is a pathway for getting a more successful life. During this application, there are many complications in the Visa procedure. But, the agents complete the procedure quickly and always give positive results.
In addition to international traveling, you can easily move from Lahore or to Lahore through this agency. It clears all your paperwork for traveling. All the agents of the company are with the best qualifications that provide you with the solution to any travel problem. These agents are very corporative and thought that they have to satisfy all of their customers. Thus, the customers want to again contact them for another traveling.
Best Guidance for Visit Visas
It is necessary to get a Visa to visit any country. Most people want to go to Europe for holidays. If you also want it, you need a Visa which is essential for international traveling. Pakistan is one of those countries that must have a Visa for international moving. It is compulsory for Pakistanis.
The Visa procedure is one the most complicated procedures for many people, especially if they have a busy time. There are requirements for many documents in it. Babaaz Travels & Tours international agency provides great customer service and easily completes your process Visa. They will do it in just a few days. You can find different agencies in Lahore and get help directly from them..
Facility of Online Travel Agents
Lahore is the largest city in its country. It considers the central point for traveling both domestically and internationally. The airports in Lahore are always in busier routines.  These sorts of too busier airports are ideal to reach your destination. You can move from one place to other places or countries from Lahore. The Allama Iqbal Airport is the largest in Pakistan. Nowadays, there are a huge amount of travel agencies in this city. Its goal is to provide amazing travel services.
In this modern duration of technology, everything has some advancement over time. Likewise, there are many new advancements in the agencies. Now, the agency provides an online way to complete the whole process of traveling. It is an easier way to easily get the services. Moreover, the understanding of the online portal is also simpler. You can quickly understand it in a very short time.
Get Assistance on Call
Many young people wish to visit beautiful places with their friends or partners. Therefore, they enjoy the best time of their lives. All Pakistanis want to travel to their destination with the help of the best traveling agency. The travel agents are the best that completes the whole procedure of traveling.
It includes the processing of visas as well as facilities for transportation and living. They must make proper arrangements for the hotel also. Even, they also make arrangements of receiving you when you come back to your homeland. You can easily talk with such agents through their phone numbers. In addition, they provide you with complete detail through mobile phones.
Babaaz Travels & Tours international Agency in Lahore Contact Number
It is good luck for Pakistanis that they bear the expenses of international tourism also in the upper class. On the other hand, the middle class in the country prefers to visit nearby locations. Babaaz Travels & Tours international companyis the best for both purposes.
It is not incorrect to state that it is perfect for every class in Pakistan. With their contact number (042) 35912628, you can directly talk to them. They provide you with the best-visiting destinations according to your budget. They are famous for the unique arrangements of traveling.