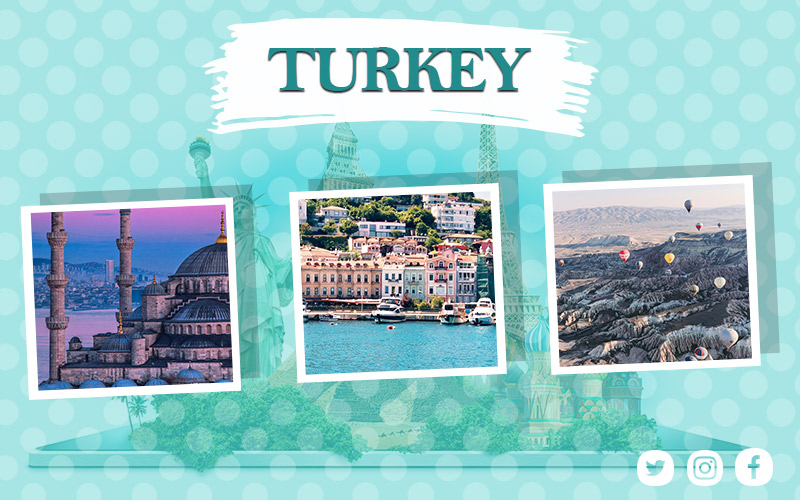 Turkey is one of those beautiful countries that attract tourists towards it. It is popular due to its great geographical location. This country has the beauty of mix combination of both East & West. In particular, it is suitable for every tourist to spend their holidays there. Moreover, it has the best tourist places. Its unique cities and architecture enhance its beauty.
Many people wish to spend their vacations in beautiful resorts. If you also want this kind of place for visiting, Turkey is the best place. It has the most attractive resorts. We will tell you the top 10 charming places that are present in this country. And, you will love to visit them.
List of Top 10 Tourist Places in Turkey
All the destinations are distinct from each other. But, one common thing about all of them is that they all are beautiful. Turkey offers you glamorous places and makes your trip more memorable. Consider the following destinations if you desire to visit Turkey.
1. Istanbul
Istanbul is the most famous city in this country. In this world, it considers the oldest city and one of the excellent places for tourists. According to many perspectives, it is like a jewel for both Asia and Europe. People from different continents like this place. Once you will visit it, you will wish to again go there in your next trip plan. The famous places in this city include Ottoman places and mosques such as Hagia Sophia.
2. Antalya
Antalya is the best tourist destination that has the most attractive nature. Numerous boutique hotels give you the feeling of royalty. It has green landscapes that enhance its beauty. You will love to see them before sunrise. This view offers you the most satisfying feeling. Another ideal place to see is the Korsunlu Waterfalls. This waterfall is amazing in this city. There are varieties of exceptional places there.
3. Patara Beach
Beaches are marvelous for summer vacations. Most tourists want to go to the beautiful beach during their summer vacations. There are plenty of healthier benefits. You should go there with your family. So, you and your family live a healthier life. You will get a huge quantity of vitamin D during your vacations. Patara Beach is the perfect attractive place. This beach is also one of the important seas in Turkey. Its stunning view gives you a relaxing feel all time. There are many historical monuments nearby. According to Times Online, it is an exceptional beach.
4. Ankara
Ankara has great importance because it is the capital of the state. In ancient times, it is the central area for trading all over the country. It has a rocky hill that contains the best variety of goats. The goats are with long hair which makes them good-looking. In particular, this rural city is with all-natural attractive scenarios.
5. Temple of Hadrian
The temple of Hadrian is large and artistic. It is the older place for visiting tourists. This temple follows Greek architecture. Its popular factor is the presence of the sculpture of the King. It looks so magnificent till now. If you have an interest in knowing history, you should go there and explore its complete history.
6. Alanya
Every country is with some unique specialties. Turkey's specialty is the Alanya. The Alanya considers the paradise of the state. Its nature consists of a pretty climate with amazing scenery. Also, it has numerous beaches. These beaches are enough beautiful to attract anyone quickly. There is a high demand for hotels or restaurants when you visit someplace. Luckily, this place is with great modern hotels.
7. Fethiye
Fethiye is a fine place for traveling. It works as a port and with the most beautiful scenario. Its traditional lifestyle urges all Asian people to visit there every holiday. It is famous as the valley of butterflies due to its glamorous look. This place has also many famous beaches. Whenever you go to turkey, you should visit Fethiye and enjoy your trip.
8. Cappadocia
We all love hot balloons because they look amazing, especially at night. Cappadocia includes in the list as the perfect destination for every tourist. This spectacular area is with outstanding rocks. Another specialty of this place is that it has underground churches which show their historical build-up. Besides, this place is attractive due to its many secretive buildings. It is our recommendation to enjoy the historic rocky mountain and click your beautiful pictures there.
9. Ephesus City
Ephesus city is on the west side of the Asian continent. Its popularity is due to the creation of Artemis Temple. This temple includes in the list of the seven wonders. At this place, you will see some fine classical architecture. These architectures include the place of Old Theatre, etc. You will surely be amazed when you will see it.
10. Pamukkale
Pamukkale is just like a fantasy destination but it is a natural wonder. It is common among different tourists all over the world. It has featured bright whiteness. Therefore, the state claims it as a cotton castle. It is a magnificent landscape that provides good quality water. This water is with a good quantity of calcium which is healthier for the body.
Turkey Visit Visa assistance in Lahore
Before going to Turkey, you will need a visit visa. In Lahore, there are numerous travel assistances. These assistances are perfect for quickly getting the visit visa. They make all the procedures of visas easier. Babaaz Travels give you the best assistance in the entire Lahore.
Final Thoughts
We told you all the best destinations in Turkey. Whenever you go to this country, must visit such places. They make traveling more worthy. Turkey is ideal for all tourists. You can plan a trip with your family or partner to go there. A great way to travel to Turkey is the accurate choice of a Travel agency. Babaaz Travels is the leading agency in this case. This excellent agency will do all of your process visas, transportation, etc.