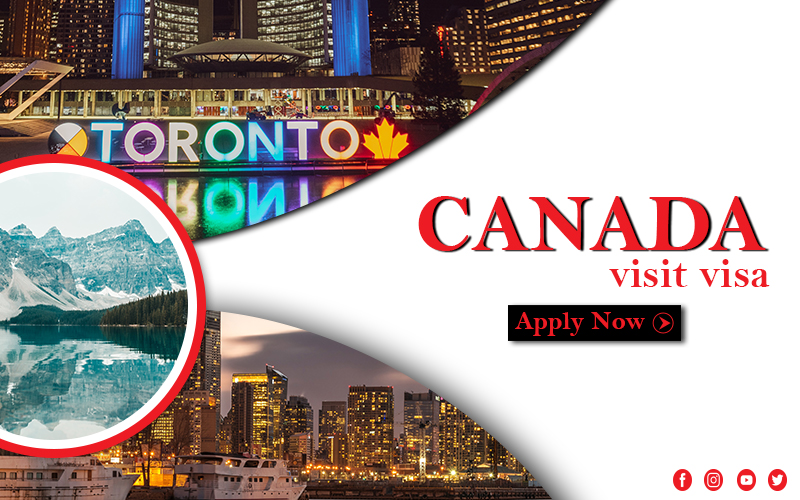 Canada is an attractive destination for all tourists. It is famous for tourism. The Canada visit visa is easier to get even if you are from Pakistan also. Its validity is above 5-10 years. This application process is easier. The Canadian visas are of great benefit. One benefit is its longer valid time. Another benefit is that with this visa you can also enter Mexico.
Validity of Tourist Visa
Canada will issue their visas for ten years. This duration is specific to the current passport. If your passport gets expire, the validity also becomes finished. For instance, if you get the issue date of your visa in 2021, then its expiration date will in 2031. Your passport is free from the expiry issue. If your passport will expire after a few months, firstly renew it and then apply for Canada's visas.
Time to apply
It is compulsory to apply before three months of your holidays. You have to do its process in advance. As an example, if your trip is in April, you have to apply before three months. The total time needed is 30 days. However, in some scenarios, it needs more time. You should apply before two months of your traveling.
Time duration of staying
The time for staying is more than six months. Or it may depend on the expiry of your passport. When you enter this country, the officer writes a date of your exit from the state. Before this date, you have to move to your homeland.
Number of entry on the tourist visas
As we told, it has a validity of ten years. It means that you can always travel to Canada whenever you wish to go there. With tourist visas, you can travel to the country multiple times without any hurdles. Thus, it is the best destination for tourists.
Application process
Before applying, you will make an account on the Government of Canada site. When you create it, you will enable to fill out the application. The advantage of this account is that you will save the half of information in the form and later you will fill out the remaining form. There is no rule to filling the entire form at a time. You can do its filling but if you need any consult, Babaaz Travelss are the best.
After signing in to its site, you have to choose the visitor visas option. After that, you will download the form and fill it out. Canada has both options of applying for visas and e-visas. If you want the traditional way, you will print out the application. After the filling, attach all the documents and also attach the proof of paying the visa's fees. And then, submit it to the VAC and wait for the approval. When you get the approval for a visa, there is a requirement of sending your passport to VAC. In this case, you again have to go there to collect your passport.
Requirement of documents
Below are the documents that are essential for the process of a visa. You have all documents and then apply for visit visas.
The application should fill properly and it has your signature.
You have to provide all the detail about your family as well.
There is a requirement of submitting your proof of financial work. It shows what and how much you earn in your hometown.
Take one copy of 1st & the last page of the passport.
Your reason for traveling is to visit the country. Therefore, you will attach the proof of accommodations. Besides, there is also a requirement for a return ticket.
Canada also sees your travel history at the time of issuing the visas. You have to show it through the stamps on the passport.
Tourist visa fee
The fee is 100 dollars. This paying cost must in Canadian dollars. You can only pay it through a credit/debit card. When you pay from Pakistan, there is also the chance of a transaction fee.
Biometric procedure
Tourists must complete this procedure. You have to complete it for Canada visit visas. Once you do your biometric confirmation, there is no need for again biometric for ten years. After one biometric, you can efficiently travel to Canada any year without further need for this procedure. This fee is only for one time for ten years.
Processing time
The processing time is more than thirty days. This time is different for every country. You should check it first and then apply. You will get all of this kind of information through their online site. Applying in advance is the best step. So, there is no tension about delaying your visa.
Submit passport
After getting approval, you will get an email. This email is a verification of your visa. After it, you will submit your passport to VAC. Your passport will go to Canada and come with the visa's sticker. Another way is to send your passport through email. It is specific to the online process.
You will never withdraw from the visas application. All the processing fees are non-refundable. When you will not send your passport in thirty days, there will chance of rejection of the application.
Canada Visit Visa Consultants in Lahore
The consultant will give their best guide to you when you plan to go to Canada. There are many consultants in Lahore. You can easily approach the best one. Among all, the Babaaz Travels are a great option. They do all the visa procedures. You will get your visa in a short time.
Which consultancy is best for a Canada visa?
Babaaz Travels offers excellent consultancy about the visit visa to Canada. This country is a dreamy destination. We all desire to travel there to see its beauty and all the attractive places. With the help of Babaaz Travels, you fulfill your dream. They provide you with all the information about applying for a visa. Moreover, they tell you those places that you should visit in the country.