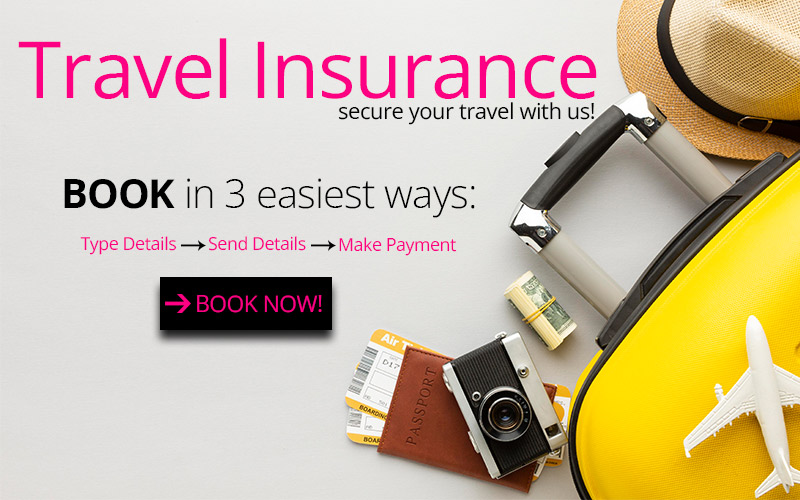 The majority of us want to visit abroad during our vacations. But one important thing is about we should take travel insurance or not. There are numerous questions regarding this kind of insurance. One critical question that comes to our mind is whether is it worth for us or not. Another point arises that is it protects us in some difficult situations or not. The simple answers to all of these questions are that we believe in the uncertainties happening in our lives.
Top 5 Reasons Why Travel Insurance Is a Must
Whenever we travel outside our country, there is always the danger of certain risks. They may include health issues or the loss of specific important documents. The advantage of travel insurance is that you will keep yourself and your family safe from any of these risks. It makes sure that you will travel with no worry. It is essential for your hassle-free traveling, no matter if you travel alone or with someone.
Furthermore, the best plan decreases the burden of finance on you. You will comfortably reach your destination with no fear. Now, I will tell you those specific reasons that elaborate on the worth of insurance. For these reasons, you will easily understand why insurance is necessary during traveling.
1. Fallen sick
We all plan to take some precautionary measures before going outside. They are specific for the good health of the body. But, in this life, not everything happens with a proper plan. In particular, we do not know when we become ill during vacations. For instance, if you face any health issue, you will need instant treatment. But wait, have you known about the best medical place in another country. No, it is not wrong that we do not have an idea about it.
Another problem at the time of sick you will face the high expenses. All the hospitals increase a financial burden on you. You can only save yourself from this trouble if you select the best travel plans that include the bearing of hospitalization costs. This type of insurance is specifically amazing for all international traveling.
2. Loss of luggage
Another major issue of traveling to other countries is losing your luggage. Many tourists face this problem when they land at another destination. Sometimes, they get their lost luggage but after spending much time. This delay in your exploring new places makes your trip a little uncomfortable.
Travel insurance solves this problem also. Many times, the airline company tells you to wait for a minimum of 24 hours to get back your luggage. In this scenario, this safeguard will save your quality time. Thus, you enjoy more in your vacations more.
3. Flight delays
Flight delays are the most common issue. Its rescheduling process mostly happens on all airlines. If your flight will delay for some reason, you have to spend your money on buying food. During this duration, your refreshment is important. And if you purchase food, there is a high chance of imbalance in your budget. Choose your travel assurance wisely. Most of such assurance bears all of your extra expenses during traveling.
4. Loss of any documents
Passports and other documents are essential when you plan to visit any other beautiful country. It is also crucial to keep such documents safe with you. If you lose them, there will chance of facing legal problems. Thus, you will need more spending of money to again get your passport or other documents. It is not an ideal choice for many tourists.
But, with a good agency plan, your mind will remain free from thinking about how to tackle this condition. For example, if you lose your passport, the agency will provide you with another duplicate copy of your passport. Moreover, sometimes they provide a fresh passport.
5. Personal Accident
The insured person gets all the facilities from the agency if got any personal accident. The company will immediately pay if anyone accidental death. Furthermore, they will also give money for the treatment of any injury. No matter whether the injury is big or small, the company provides all expenses. No doubt, it is the best protection for the health in the difficult situation of an accident. Keep yourself secure with excellent insurance plans.
Why Travel Insurance is important?
The traveling of youth, as well as older people to the whole world, is the most common. We all desire to visit the best places that we did not see in our life before. Most of the destination places are full of people. But, we forget that many troubles are also in our ways. To overcome such troubles, we need good insurance from the travel agency.
Sometimes, there are many disruptions during the trip. We all hate such disruption, but it is life and it can happen. So prepare yourself before facing them. It may include the canceling of your trip. For bad weather condition, the tour company cancels or delay the timings of the trip. Besides, sometimes tourists cancel their trip due to any family issue. If you are in such a scenario, the travel agency will refund your expenses.
Travel insurance Pakistan
Pakistan includes in the list of those countries that provide the insurance. The Foreign officer of Pakistan gives the names of those destinations where you can go with the insurance plan. But, if you go to other destinations besides them, you will never get it. Make sure that you will select a good place for your visit.
The cost is different according to age group. The company provides more expenses for people above 65 years. Further, this cost increases with the numerous days of the selected plan. It all depends on you which plan is suitable for you.
Many companies provide international insurance plans. When you choose the good one, you will make sure that you safely travel from your homeland country to other countries. If you face any problem, the travel agency will instantly help you out from the problem. It provides you with great protection.